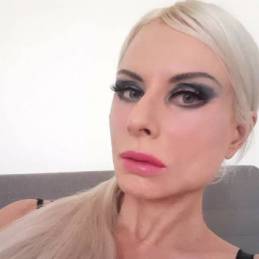 Marlinda Branco (36) in Frankfurt am Main - Weiblich
Größe:

180 cm
BH Cup:

D
Gewicht:

70 kg
Figur:

Schlank
Herkunft:

Mitteleuropa
Geschlecht:

Weiblich
Sprachen:

Deutsch, Englisch, Französisch, Holländisch, Andere

Kontakt:

Haus-/Hotel, Besuchbar, Clubbesuche, Outdoor
Telefon:
Stadt:

Frankfurt am Main
Webseite:
Sexuelle Vorlieben:
Anal aktiv
Anal passiv
Bisexuell
Bizarr
Bondage
Deep Throat
Devot
Dirty Talk
Dominant
Dreier FFM
Dreier MMF
Fetisch
Fisting aktiv
Fisting passiv
Foto/Video
Fusserotik
Gang Bang
GF6
GV
Hetero
Küssen
KV aktiv
KV passiv
Massagen
NS aktiv
NS passiv
Oral
Paare
Rape
Rollenspiele
Spanking
Switcher
tAbulOs
Vomit aktiv
Vomit passiv
Persönliche Vorstellung:
My name is Marlinda Branco. I am from Amsterdam and unique in that I am.. exxxtreme. I am a tall, blond, exxxtremely well-trained, professional BDSM Goddess.., a rare, truly legitimate NO LIMIT Dominatrix & Subslut looking to bring your Softcore or Hardcore Fantasies to life. Find reviews on my site.I am an EXXXTREME MISTRESS/PORNSTAR.I do not offer 30 minutes or 1 hour services, a session starts with 2 hours. FOR INFO, DETAILS & BOOKING MESSAGE me at my E-mail. Info and bookings only through E-mail. The correct way to address MISTRESS MARLINDA is :
"Mistress Marlinda Branco, I want to book you in ..... . Please give me your info, details, available dates and I will confirm today with my deposit ."
The incorrect way of addressing MISTRESS MARLINDA?:
When are you in.....? Or do you come to....?
Thus, my little slave pigs..., when I have been offically booked... I, Mistress Marlinda, will be there so that you may service me. Thats all there is to it .

DO NOT CONTACT ME IF YOU ARE A WANNABEE AND BRAINLESS TIMEWASTER OR A CHEAP FUCKTARD I HAVE NO INTEREST IN YOU AT ALL. Booking always 3-7 or more days in advance.
I am unique in that I am an Exxxtreme, No limits Mistress. What exactly is a "No Limits" Mistress?
A No Limits Mistress is a specialist that can take you to any level you wish to go... All is good. Every one of your kinky, perverse fantasies can (and will) be realized and actualized. I can be very very cruel.However, be warned... I have absolutely no time nor interest in wannabees, time wasters nor cheap fucktards. So, if you want to play.... I play HARD.

Kontaktiere mich nicht, wenn du nicht bereit bist, meinen Regeln zu folgen. Es ist erforderlich, Ihre Buchung mit 50% Vorauszahlung zu bestätigen. Wenn Sie die Sitzung stornieren müssen, bleibt Ihre Vorauszahlung für ein anderes Sitzungsdatum gültig. Ich bin sehr ernst darin, Ihnen die beste Sitzung zu geben, die Sie jemals träumen können. Ich erwarte, dass Sie es ernst meinen, auch meinen Regeln zu gehorchen. Wenn nicht meine Zeit nicht verschwenden.

Der richtige Weg, um MISTRESS MARLINDA anzusprechen, ist:
"Herrin Marlinda Branco, ich möchte Sie in ..... buchen. Bitte geben Sie mir Ihre Informationen, Details, Termine und ich werde heute mit meiner Anzahlung bestätigen."
Die falsche Art, MISTRESS MARLINDA anzusprechen:
Wann bist du in .....? Oder kommst du zu ....?
Also, meine kleinen Sklavenschweine ..., wenn ich offiziell gebucht habe ... ich, Herrin Marlinda, werde da sein, damit du mich bedienen kannst. Das ist alles dazu .